UNI-Interlocked Steel Green House System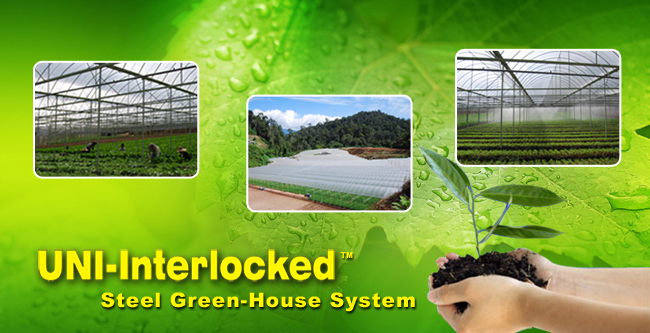 We manufactures quality greenhouses & shelters for agricultural due to the increasing interest all around the world in sustainable protected food production systems. Its new invented drain gutter system with wiggle wire not only successfully lower down the cost but require less labor during installation.
New Drain Gutter VS Typical Drain Gutter
Advantages of New Drain Gutter:
1. C-Clip lock to provide better installation details.
2. Hem edge to avoid plastic sheet damage from sharp edging.
3. Wiggle wire provides better bonding and ease installation process.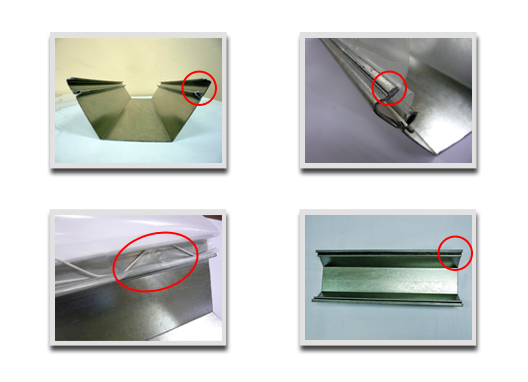 Disadvantages of Typical Drain Gutter:
1. Additional steel rod is required.
2. Difficult to install plastic fully-tighten.
3. Plastic sheet will damage due to sharp gutter edge.
4. Plastic sheet easy loose..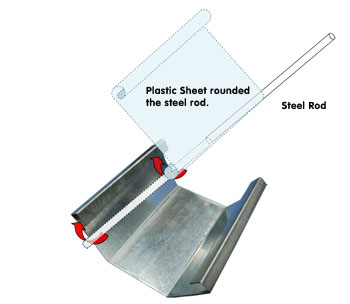 UNI-INTERLOCKED
™

PRE-PAINTED GI / GALVANISED IRON (GI) PIPE

Another new product from TYM ! It's made through roll forming and clipping process, which is different from conventional mild steel production process that need to apply heat welding to seal edges. UNI-INTERLOCKED ™ PPGI or GI definitely is much more cost-efficient.

UNI-INTERLOCKED ™ PPGI PIPE - Coupled with the top lamination of polyester / epoxy color paint on the galvanized iron (both surfaces internally and externally), pleasing appearance and a barrier film to enhance long-term durability. In comparison with mild steel which requires value adding, zinc coating and color coating to match up to our UNI-INTERLOCKED ™ PPGI standard, costs will correspondingly increase and resulted in higher selling price which reduce customer's benefits.

UNI-INTERLOCKED ™ GI PIPE - The most economical and effective coated steel product with application of zinc coating that provides proper steel corrosion protection. The zinc coating mass of 275g/m2 provides sacrificial protection and gives a high performance for outdoor application.

UNI-INTERLOCKED ™ PPGI and GI PIPE is the most suitable to be applied in greenhouse construction. It has been widely applied by a lot of companies in the market, especially a one of the top option by the farmers in Cameron Highlands. This proved that they had realized the value and benefits UNI-INTERLOCKED ™ PPGI PIPE bring to them.
Benefits:
1. Improve paint adhesion & corrosion resistance.
2. Durable as protected by premier coat.
3. Designed for all weather conditions.
4. Environmental friendly.
5. Esthetic look.
6. Top & bottom surface coated with zinc & premier color.
7. Save cost of material.
8. Build according to customer design.
9. Engineering department assistance.

Related Informations:
Product Technical Specification
Cold-formed Rectangular/Square Hollow Section Properties
Gutter Section Properties
Other Related Products

Project Reference:

View More
Download our brochure:

Go Back
Back to Top