Quick Selection Table for Simple Span Purlins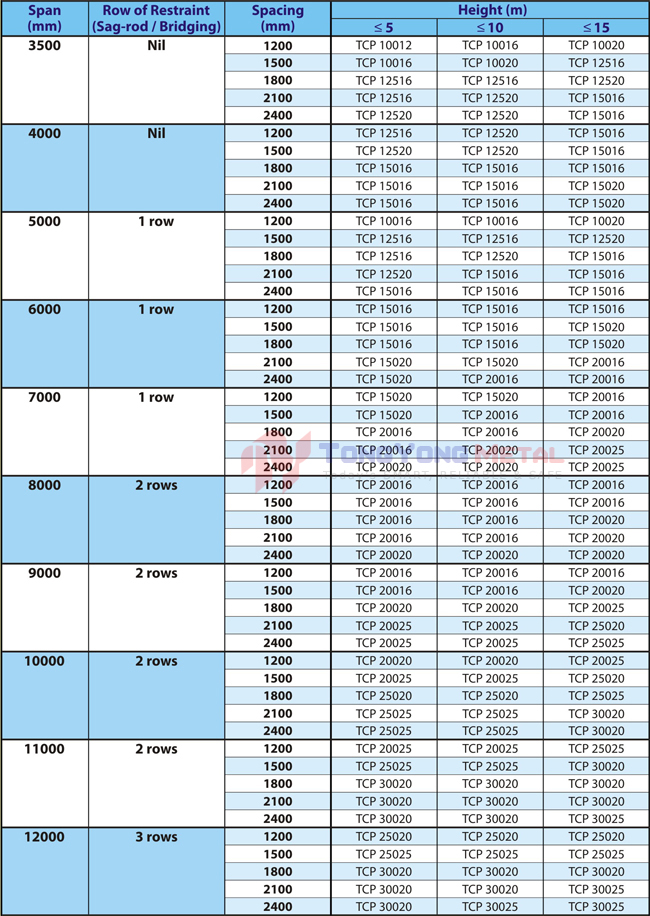 Note: Please refer design principle of above selection table before make selection.
Design Principle for Purlin Selection Table
The Prulin Selection Table are complied to BS 5950 : PART 5 : 1998 - Code of Practice for design of cold formed thin gauge sections
A) DESIGN LOADING
i) Basic Design Wind Speed 33.5 m/s
- Building Class B
- Ground Roughness 3
- h/w < 2 (h is the height to building eaves and w is the lesser of building horizontal dimension)
ii) Dead Load (Metal Roofing) 0.05 kN/m2 + Purlin Selfweight
iii) Imposed Load / Live Load 0.25 kN/m2
iv) The most severe inward loading combination 1.4DL + 1.6 LL
v) The most severe outward loading combination 1.0DL + 1.4WL

B) ROOF PITCH
The Purlin Selection Table is applicable for roof pitch ≤ 30 °
C) SUPPORT CONDITION
The purlin is simply supported with pinned joints over supports.
D) DESIGN STRENGTH, Py
The design strength Py for purlin shall be taken as the minimum yield strength of 400 N/mm2.
E) DEFLECTION LIMITS
The deflection limits under serviceability loads shall not exceed the followings :
i) Span / 150 under loads combination 1.0 DL + 1.0 LL
ii) Span / 180 under unfactored imposed loads 1.0 LL.

Go Back